Academic Records, Registration & Grading
Students, faculty, and staff use Workday instead of Banner for academic/student records, registration, and grading.
Students assemble schedules and register for classes in Workday.
Banner continues to be the system of record for the 2020-21 academic year.
Faculty and academic advisors view student records and open courses to support advising.
Faculty view course rosters in Workday, and submit final grades, which students will then see in Workday.
It is not easy to move away from Banner -- it has been is use for 30 years, and heavily modified to work for WPI. Workday Student was created by a co-founder of PeopleSoft, who took a fresh approach to how information systems could take advantage of recent technology. Workday Student is a relatively young tool that will continue to evolve; Workday is committed to harnessing emerging developments in areas like machine learning and AI to improve its products. With Workday, you can:
Use a mobile device to interact with academic records
Accept or drop waitlist openings, with notifications by email
Use faceted searches to refine results
Navigate seamlessly from high-level to detailed information
Sort, filter, and hide or display columns in report tables
Access data for predictive analysis
All with a clean, modern interface
About the Project
Workday Student will incorporate data and processes currently housed in Banner, while connecting to other systems, including Salesforce, Slate, and PowerFAIDS.
This is a multi-year project that touches almost every aspect of the student experience. The project teams are working together with partners from functional offices, academic departments, and the community.
If you'd like to learn more about Workday Student, there are a series of short videos from Workday describing the experience from the perspective of Registrar, Financial Aid, Advisors, Faculty, and Students.
Workday Perspective Videos
Meeting Calendar
Connecting to the Community
Workday Outreach meets monthly, open to everyone.
Workday Liaisons (includes faculty and staff) meets monthly + as needed.

Invited the community to 12 hours of focus groups on how people are working now with academic/student processes.

Scheduled demo/discussions with academic departments. Email if you'd like to arrange a session!

Visits to Student Government.
Training and drop-in office hours.
Contact us!
Ongoing Meetings
Executive Sponsor meets every other Thursday morning, then Steering/Implementation meets on the following Friday afternoon
Change Management Advisory Board meets monthly

Technology Task Force meets quarterly

Update provided to CITP every two weeks and presented periodically to Committee on Administration and Financial Policy (FAP)

Process and Communication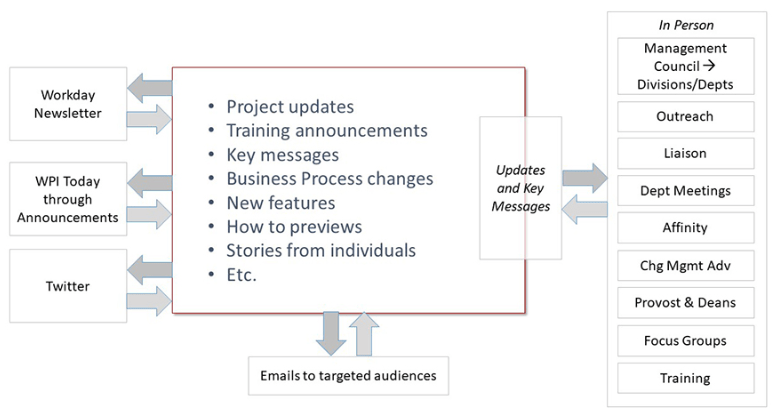 Our goal is to ensure everyone knows how to do what they need to do, and support is available when they need to do it.
Mock Registration Documentation
Timeline

October 2021: Course Grading, transcripting
Completed
November 2021: Most Bannerweb services are discontinued.
Fall 2021: Advising, Degree Audits for UG majors, minors, concentrations + 4 GR programs, registration for Spring 2022
July 2021: Student Financials – Students pay bills for Academic Year 2022 through Workday, financial aid integrations for billing
June 2021: New Student Registration – First Years, transfers, and visiting students register for Fall 2021 courses
April/May 2021: Course Registration – Students use Workday to register for Fall 2021 courses
Spring 2021: While not visible to the community, but this work forms the foundation for academic activities in Workday.
Academic foundation in Workday production
Test loading student data and integrations with Salesforce, Slate, and PowerFAIDS

Curriculum Management -- Course catalog material and courses go into Workday

February 2021: Student data records copied into Workday
Fall 2020: Community outreach -- invite us to a department meeting or attend a session. Training is coming!
November 2020: "Mock Registration" event -- participants from the WPI community (faculty, students, and staff) try out registration, grading, etc. in Workday. User Acceptance Testing (UAT...another community opportunity!) to follow.
Summer 2020: Transition to Banner 9 -- affects administrative functional offices; BannerWeb interface and reporting remains unchanged.
Project Teams
Student Records Data Conversion:
Carla Mararian, Dan Richard (leads), Christina Macaulay, Ralph Sheehan, Shruti Muralidharan, Gerta Gjata, Edlira Stefani, Susan Sarli, Reema Sharma
Student Core:
Leads: Sarah Miles, Dan Richard
Curriculum: Kristin Adams, Christina Macaulay
Registration: Christina Macaulay
System Core: Christina Macaulay, Katie Gilbert, Rhiannon Paredes, Cathy Battelle, Jen McCarthy, Carla Mararian, Colleen Callahan-Panday, Andrea Trimmer, Lynn Beauregard, Todd Wheeler
Academic Foundation:
Leads: Carla Mararian, Sarah Miles
Academic Core: Carla Mararian, Sarah Miles
UG Advising: Paul Reilly, Elizabeth Jacoby
GR Advising: Terri Camesano, Rory Flinn
Degree Audit: Paul Reilly, Dan Richard
Student Financials:
Lynn Beauregard (lead), Yvonne Harris, Patrick Hitchcock, Todd Wheeler, Christina Macaulay
Financial Aid:
Integration with PowerFAIDS:
Todd Wheeler (lead), Mike DiRuzza, Lynn Beauregard, Kevin Shanahan, Adam Epstein
Graduate Financial Aid: Terri Camesano, Melissa Terrio (or other FSB designee)
Admissions & Recruiting:
Baseline build plus integration with Salesforce & Slate:
Gerta Gjata (lead), Christine Banning, John Plunkett, Carla Mararian, Todd Wheeler, Christine Lynch, Adam Epstein, Christina Macaulay, Brian Degon
IT:
Jill Desmarais, John Plunkett, Ralph Sheehan, Seling Mao, Shruti Muralidharan, Kim Bromann (Testing lead), Jonathan Eck
Reporting:
Gerta Gjata (lead), Shruti Muralidharan, Jeffrey Kilelo, IR Team (as it applies), Core leads and members (as applicable)