About the Project
Workday Student will incorporate data and processes currently housed in Banner, while connecting to other systems, including Salesforce, Slate, and PowerFAIDS.
This is a multi-year project that touches almost every aspect of the student experience. The project teams are working together with partners from functional offices, academic departments, and the community.
If you'd like to learn more about Workday Student, there are a series of short videos from Workday describing the experience from the perspective of Registrar, Financial Aid, Advisors, Faculty, and Students.
Workday Perspective Videos
Meeting Calendar
Connecting to the Community
Workday Outreach meets monthly, open to everyone.
Workday Liaisons (includes faculty and staff) meets monthly + as needed.

Invited the community to 12 hours of focus groups on how people are working now with academic/student processes.

Scheduling demo/discussions with departments. Email if you'd like to arrange a session!

Contact us!
Ongoing Meetings
Executive Sponsor meets every other Thursday morning, then Steering/Implementation meets on the following Friday afternoon
Change Management Advisory Board meets monthly

Technology Task Force meets quarterly

Update provided to CITP every two weeks and presented periodically to Committee on Administration and Financial Policy (FAP)

Process and Communication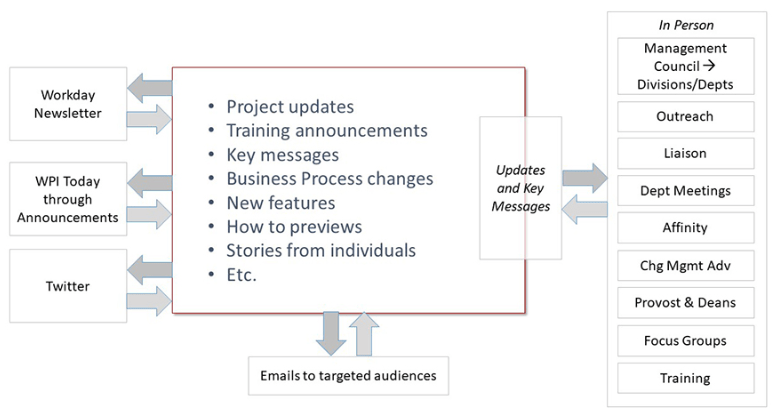 Timeline

Fall 2019 - Summer 2020:
These items are not visible to the community, but they are important as the foundation for academic activities is built in Workday.
Academic foundation in Workday production
Test loading student data and integrations with Salesforce, Slate, and PowerFAIDS

Curriculum Management -- Course catalog material and courses go into Workday

Summer 2020:
Transition to Banner 9 -- affects administrative functional offices; BannerWeb interface and reporting remains unchanged.
Fall 2020
Community outreach -- invite us to a department meeting or attend a session. Training to follow.
November 16-20, 2020:
"Mock Registration" event -- participants from the WPI community (faculty, students, and staff) try out registration, grading, etc. in Workday. User Acceptance Testing (UAT...another community opportunity!) will follow.
Sign up for Mock Registration +/- UAT
Spring 2021:
End of February 2021: Student data records move into Workday
April 2021: Course Registration – Students will use Workday to register for Fall 2021 courses

New Student Registration – First Years, transfers, and visiting students register for Fall 2021 courses

Summer 2021 and beyond:
July 2021: Student Financials – Students pay bills for Academic Year 2022 through Workday, financial aid integrations for billing
Fall 2021: Advising, Degree Audits, transcripting
October 2021: Course Grading

Project Teams
Student Records Data Conversion:
Carla Mararian, Dan Richard (leads), Christina Macaulay, Ralph Sheehan, Shruti Muralidharan, Gerta Gjata, Edlira Stefani (as applicable)
Student Core:
Leads: Sarah Miles, Dan Richard
Curriculum: Kristin Adams, Christina Macaulay
Registration: Christina Macaulay
System Core: Christina Macaulay, Katie Gilbert, Rhiannon Paredes, Cathy Battelle, Jen McCarthy, Carla Mararian, Colleen Callahan-Panday, Andrea Trimmer, Lynn Beauregard, Todd Wheeler
Academic Foundation:
Leads: Carla Mararian, Sarah Miles
Academic Core: Carla Mararian, Sarah Miles
UG Advising: Paul Reilly, Elizabeth Jacoby
GR Advising: Terri Camesano, Rory Flinn
Degree Audit: Paul Reilly, Dan Richard
Student Financials:
Lynn Beauregard (lead), Yvonne Harris, Patrick Hitchcock, Todd Wheeler, Christina Macaulay
Financial Aid:
Integration with PowerFAIDS:
Todd Wheeler (lead), Mike DiRuzza, Lynn Beauregard, Kevin Shanahan, Adam Epstein
Graduate Financial Aid: Terri Camesano, Melissa Terrio (or other FSB designee)
Admissions & Recruiting:
Baseline build plus integration with Salesforce & Slate:
Gerta Gjata (lead), Christine Banning, John Plunkett, Carla Mararian, Todd Wheeler, Christine Lynch, Adam Epstein, Christina Macaulay, Brian Degon
IT:
Daren Tucker (lead) with Jill Desmarais, John Plunkett, Ralph Sheehan, Seling Mao, Shruti Muralidharan, Kim Bromann (Testing lead), Jonathan Eck
Reporting:
Gerta Gjata (lead), Shruti Muralidharan, Jeffrey Kilelo, IR Team (as it applies), Core leads and members (as applicable)