Introduction
Through Microsoft (Office) 365, the Forms app is available to WPI employees and students. Benefits include:
Create surveys, quizzes and polls
Access Forms from varied devices

Collaborate with other WPI account holders

Integrate with Excel

Forms and responses are saved automatically

Requirements
Active WPI account
Refer to WPI's Institutional Review Board for research compliance

Access Forms
The Forms application can be accessed through the My Apps section of My ITS.
Surveys, quizzes, and polls can be shared with collaborators and respondents by sharing a link.
Forms can automatically collect WPI usernames. Form settings can also be set to allow users outside of WPI to respond to a survey or quiz. In this case, users will be submitting responses anonymously. If you want to see who has filled out your survey or quiz, you can require respondents to fill in their names as part of your questionnaire.
If you create a Form from SharePoint, you have an option to create a copy of the responses you can edit and add to in a new workbook.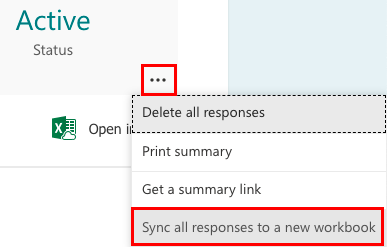 Getting Started
Access Microsoft 365 (linked in Actions) or from within a Microsoft 365 app like Outlook, click the App Launcher and click open Forms.
Click the New Form button.
Replace Untitled form with a title for your form.
Adding Fields
Click the Add new button to add a form field (choice, text, date, ranking, file upload, etc.).
Depending on the type of field, there are additional options, e.g., text fields allow a Long answer.
Any field can be Required.
You can copy/delete fields or use the up/down buttons to move the order of the fields. Adding a Section will create a separate page when respondents fill out the form. If you leave Description field blank, it will not appear to respondents.
To add images or video to a question, click the Image icon.
Settings and Sharing
Click the Eye icon to preview your form.
Click the Palette icon to choose a color scheme.
Under the Ellipsis icon, you can choose who can fill out the form, choose number of responses allowed, set a start and end date, email receipts to respondents, and customize thank you messages. You may choose to receive an email when a response is submitted.
Click Share to get a Send and collect responses link that will direct respondents to the form.
You can also get a QR code, code to embed, or email a link to the form.
The Share to collaborate link will allow others to edit the form and see responses.
On the form's Reponses tab, you can download responses by clicking Open in Excel.