Enabling the Canvas-Teams Integration
Go to your Canvas course site.
Click on Settings.
Click the Integrations tab.
Click the toggle next to Microsoft Sync to enable the Teams integration. The toggle should turn green and display a checkmark.
To add your class roster, click Sync Now. This will run for a few minutes and you may leave the page to work on other areas of your course.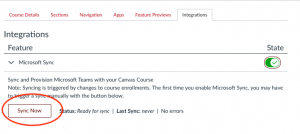 Activating the Team
When you are ready to grant student access to your Team, open the Microsoft Teams application on your device and click Activate.
Faculty, TAs, and students can access directly from the Canvas course site within the course menu.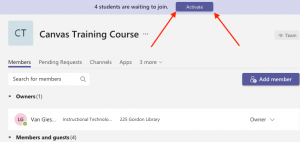 If you have questions about using Teams or Meetings, please contact hub@wpi.edu.