Microsoft Quarantine
Most spam email will continue to be sent to the Junk folder in Outlook which you should continue to review for any legitimate messages. No action is needed, unless you identify legitimate email in quarantine.
Email deemed to be high-risk will be quarantined -- you will be emailed a daily digest of any quarantined email from quarantine@messaging.microsoft.com. You only need to take action if legitimate email has been quarantined.
Email will be quarantined for 30 days, after which it will be deleted.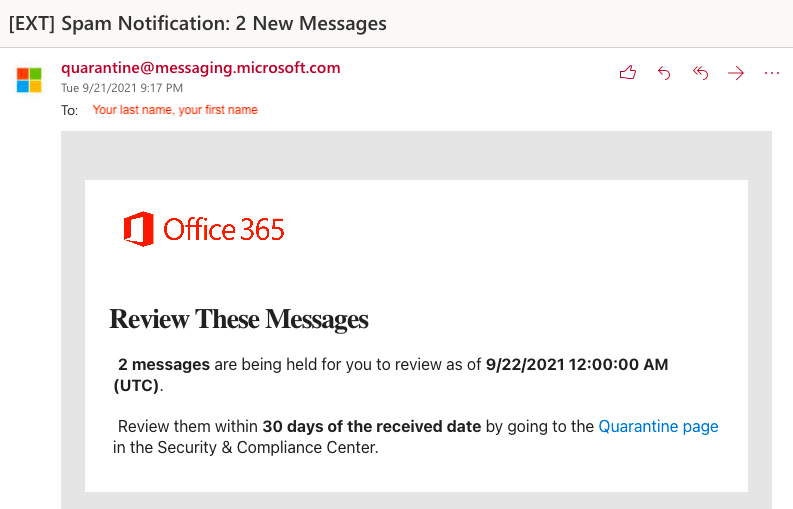 For each quarantined email, you can choose to Review, Release, or Block Sender.
Block Sender immediately blocks the sender of the email from sending you additional messages.
Release removes the email from quarantine.
Review brings you to the Quaratine page noted in the initial email.

From the Quarantine page noted in the initial email, you will see all quarantined email.
Select a message to take action on it.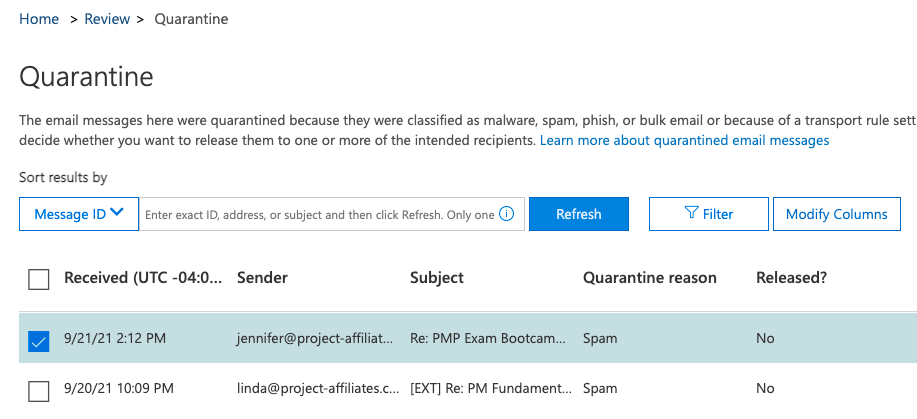 Click Preview message to safely see the contents of the email.

Remove from quarantine deletes the message.
Release message sends the email to your inbox and notifies Microsoft, which may re-evaluate its analysis of similiar messages in the future.
Abnormal Security Detection
Abnormal Security is also in place to prevent fraudulent email. This product uses artificial intelligence (AI) to detect spam and phishing emails and remove them from WPI email inboxes.
Rest assured this product from Abnormal Security has a very high efficacy rate on detections, and an extremely low false positive rate. However, there is a chance that there could be incorrect detections. If by chance an email that you are expecting is not in your inbox, please report it using Get Support below. Then the message can be released and future messages like this will be marked as Safe and delivered to you.