Impact
WPI IT Service Desk is receiving reports that certain applications, including Snapchat and WeChat, have not worked on mobile devices with the default wireless settings.
Action Needed
Disable MAC randomization/privacy addressing (more in details below, instructions in Related Articles).
Details
Network Operations is in the process of developing and deploying a fix. In the meantime, users can address the issue themselves by disabling MAC randomization, also known as privacy addressing on the WPI-Wireless and eduroam wireless networks.
For Android 11/12/13 Devices:
You will need to disable MAC Randomization on the WPI-Wireless and eduroam saved networks.
Open Settings and go to Network & Internet -> Internet -> Saved Networks.
Click on WPI-Wireless.
Click on Privacy and choose Use device MAC.
You may need to disconnect - then reconnect to WPI-Wireless to engage this configuration change.
You should follow the same process for eduroam
This process was performed on a stock Google Pixel phone. Other versions of Android or other vendor phones may work in a similar fashion.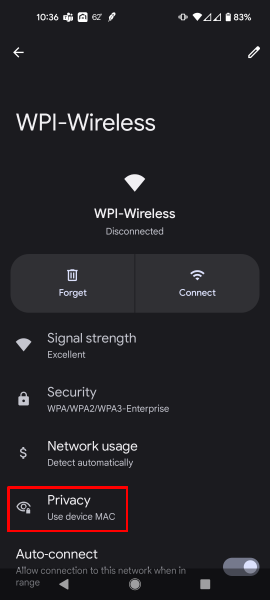 For MacOS & iPhone/iPad Devices:
Please return to https://w.wpi.edu/ and use the Setup my WPI WiFi option to reprovision your device. This should disable the MAC Randomization option automatically. If this process does not solve your problem, please refer to Disable Private Address For IOS in Related Articles.