IT Help and Support
ITS is here to assist you with all of your technology needs at WPI. We can be contacted various ways, and during normal business hours, we do our best to respond quickly!
Get Support
On the bottom of every ITS page, we provide support options.

Additionally, each page contains a button to Request Help. This links you to a Help Form that you can submit to log a ticket with IT. We recommend signing into the ITS Web App (WApp) so your customer record populates automatically! Don't worry if account issues prevent sign-in; our form enables you to include your name, WPI email, and alternate contact information.
Discover more about when, where, and how IT can assist you with your technology needs:
IT Help and Support
Support Methods

Enter a Ticket
You can submit a ticket from the ITS Help Page at any time by clicking the Submit a Ticket button. Again, there is also the Request Help button on the right side of any ITS webpage, or the Help Form button on the bottom of each ITS page that will also generate the form to Submit a Ticket.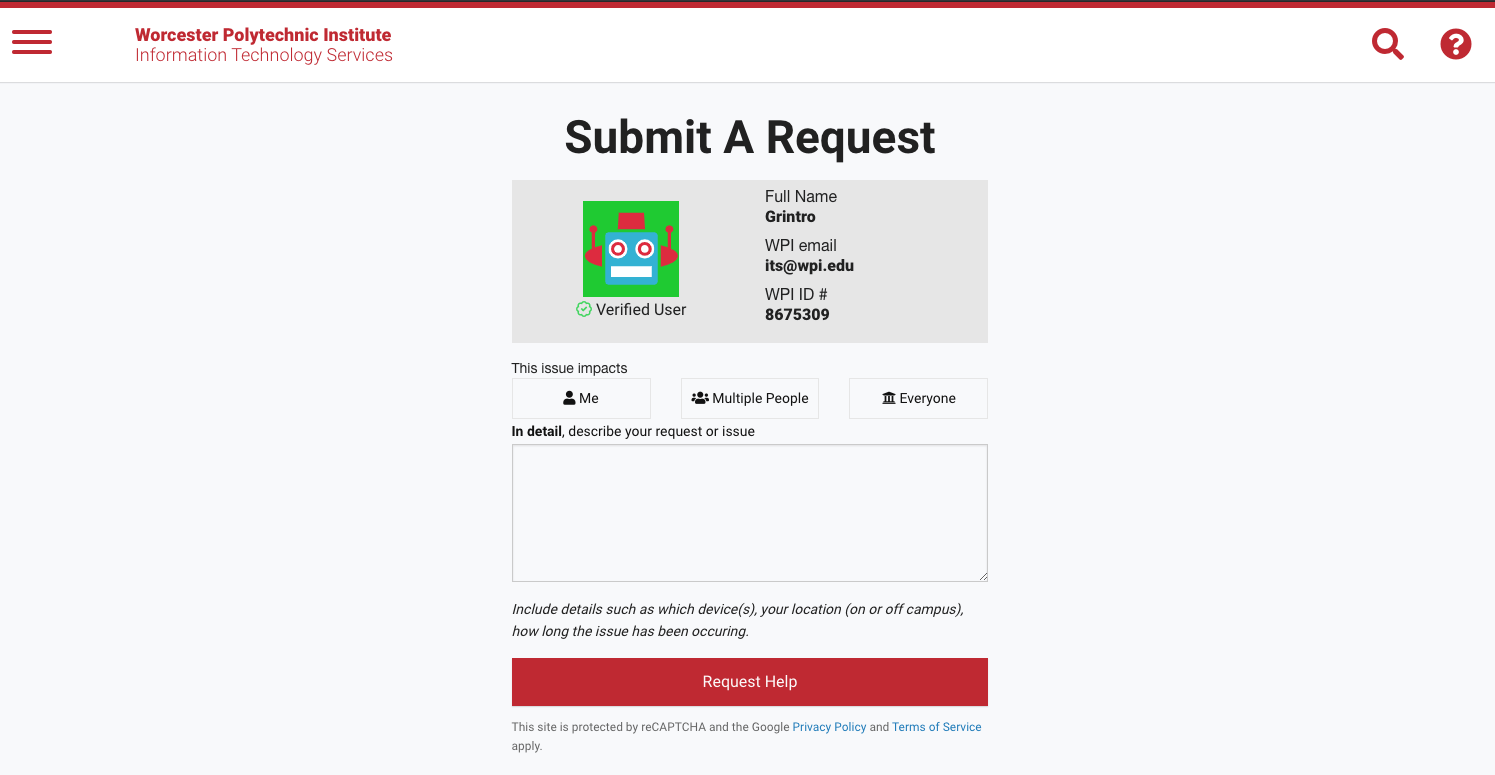 When signed in, you will be prompted to provide the following information:
This issue impacts
In detail, describe your request or issue
The Issue Impacts
This field tells IT who is impacted by this issue or request. This is extremely helpful in troubleshooting issues. Let us know if:
You are the only person involved in or impacted in the ticket
There are a few people involved in or impacted in the ticket
The internet is down and the ENTIRE UNIVERSITY IS FREAKING OUT
In detail, describe your request or issue
This is an open text field for you to let us know what is going on! We recommend sharing as much detail as you can initially, to decrease the back and forth that may be required for IT to properly troubleshoot an issue or process a request.
When troubleshooting an issue IT typically needs to know the following information, so please provide as much as you can when you submit your ticket:
When did the issue begin? When did the system last work?
What were the steps you took that resulted in the issue?
Is there an error message? If so, let us know what it is!
Any machine information you have - is the machine personal or WPI-provisioned? What is the hostname? What is the MAC Address? What is the device type?
This also applies to requests; the more information we have, the faster and more efficiently we can process your ticket!
Phone
Give IT a call at 508-831-5888 to speak directly with a full time staff member. To walk you through troubleshooting, we often use screen sharing sessions - even with community members working internationally! This enables us to take a remote look at what may be going on, and quickly gather details we need.
Email
You can email ITS@wpi.edu any day or time, very similarly to Submitting a Ticket. As mentioned, the more details you can provide will help us help you!
Primary Locations Hours of Operation
ITS Primary Locations are IT's Front Line Support. These hours of operation can be viewed at any time, and may vary during term breaks and summer. Make sure to review these before giving us a late night call!

Additional Locations
The Help and Support page also includes Additional Locations, where you may receive specialty support from one of IT's many groups. Most of their Services and Help guides can be found in the ITS WApp, but for complex issues and specialized requests, we coordinate with our IT teammates to further assist and support you!