Searching on the Hub
The Hub has improved search functionality. You can search for terms and filter by all content types we have on the site! By default, the Search is filtered by the types Article, Software, Spread, and Pages to provide quick results to those looking for content. When typing a term or phrase, the search scans titles, main content, and filter types for the exact term or phrase. Don't be discouraged if you don't yield your exact phrase.
To begin a search on the Hub:
Click the Magnifying Glass icon in the top right
Begin typing a term into the text field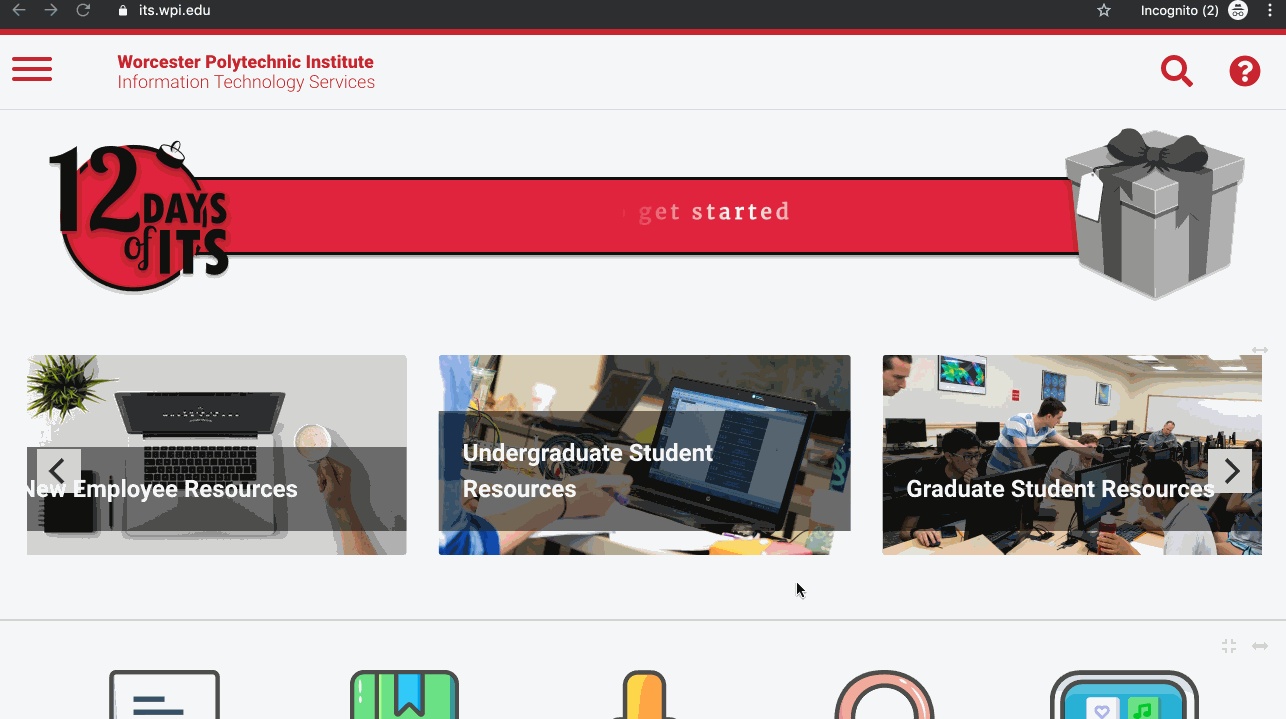 Filter Search Results
A great way to make the search results a bit easier to sort through (especially if you search for a generic term like "Network"), is to leverage the filters! You can filter by:
Filter by Type
If you've kept up so far with the 12 Days of ITS, you've learned about some of these content types already. If you skipped a day or two, we definitely recommend checking out the previous days, and stay tuned to learn more about the content types as the 12 Days of ITS progresses!
You can change the default type filter when searching. The Hub contains all sorts of information, and we've put that information into these various content types:
News: Updates, Information Changes, Outages, Cybersecurity Alerts, Campaigns,etc.
Article: How-To Guides
Software: Details about the Software Titles that IT makes available in classrooms, labs, servers, and for installation on personal machines
Location: Information about spaces such as buildings, classrooms, labs, etc. including software and available audio visual equipment
Spread

: Specialized content page such as a collection of resources or newsletter



Page: The main tabs associated with the ITS WApp (My ITS Page, Settings, My Tickets, etc.)
Portfolio: Major grouping of all Services
Service: IT offerings to fulfill needs for and provide support to the campus community

Component: Information on the tools, applications, etc. associated with a given Service

Filter by Tag
ITS uses common tags to flag specific and similar information. We encourage you to review the tags, and filter your searches by Tag to narrow results for:
Email
Cybersecurity
Password
Android
Office
Print
While the list of tags is longer, prior to beginning a search you can click the Show More button under the Tags to see them all!
Filter by Audience
If you are looking for content specific to your WPI role, we recommend filtering by audience:
Faculty
Staff
Students
Emeritus
Guests
Alumni
Prospective Students
We have content for everyone on our site! Narrowing the information down may better suit your needs.
Filter by Alias
Aliases are common names or terms associated with a specific content type. We apply aliases to content therms that are frequently searched. This list is ever-changing and evolving! Using our analytics and your feedback, we can add aliases to assist in your searching endeavors.