An Information Security publication for the WPI community
New Mobile Device Management Policy
As you increasingly use your mobile devices for activities such as email (work and personal), banking, web surfing, etc., cybercriminals target your mobile devices to steal money or gather sensitive information about you and your workplace. As a result, WPI has implemented a Mobile Device Management Policy designed to protect you and WPI.
WPI Mobile Device Management Policy
Additional Security Policies
Phishing
Higher education has become a high visibility target for phishing attacks. As threats increase, WPI is taking proactive measures to help reduce risk. The graphs below show the volume of good emails as well as threats we see on a daily basis.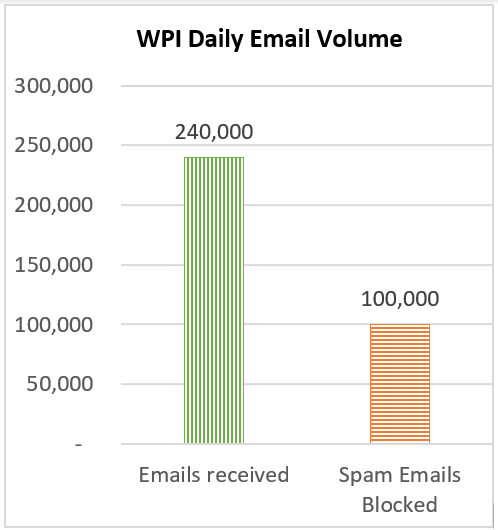 Due to the increasing volume and sophistication of phishing attacks on Memorial Day, WPI enabled "Safelinks" for both internal and external emails. Safelinks will scan links for malware and other malicious behavior. Sites known by Safelinks to be untrustworthy display a WARNING preventing you from following the link.
Additionally, to help identify phishing and spoofing (acting as another person) WPI will identify all external inbound email with [EXT] in the email subject line.
Welcome
Welcome to SECURE IT, a new publication from WPI's Information Security Office containing news highlights, WPI Information Technology (IT) security updates, and tips related to keeping devices and data secure.
Tip: Avoid Phishing Hooks
There is a new phishing trick out there, so don't get hooked! WPI has seen a significant rise in phishing attempts using names of executives, faculty, and other senior leaders. The messages lure you to click on a link as a work-related or urgent request for help. On average, WPI gets 2-4 of these per week, so don't hesitate to report phishing and please spread the word!
Report Phishing
New
WPI Learning now contains our new WPI Information Security Awareness training video. You can find it within the Compliance Assignments.
Access WPI Learning Academy