This Week in Changes
This week we had an astounding 16 changes that went through CAB approval.
Using the change numbers below see Cherwell for details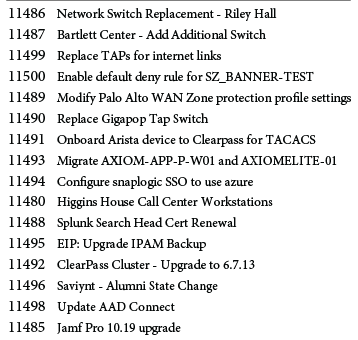 Tip of The Week
Request Communication
Does your change have user-facing impact? Do you want to celebrate your work through an announcement? Not sure about any of this?
In the latest update to Change in Cherwell we have added a "Request Communication" link under the right-side actions menu of Change. Clicking this link will walk you through a set of questions that will start an engagement with the IT communications team for making sure your change is communicated!
Coming Soon in Service Management
The past 4 sprints for the Service Management team have been full of some exciting new features coming soon!
Many of these features are being developed in order to help the transition from portal.wpi.edu to its.wpi.edu for self-service content. Some of those changes include: a new permissions system, a widgets feature for deeper customization, reworked app-wide branding, and the capability for sub-sites and libraries, in addition to dozens of bug fixes and quality of life enhancements.
Weekly Top 5
Top 5 things to know about IT Change Management
1. CAB = Change Advisory Board.
Change Management, or Change control is the ITSM process for managing the risk associated with our work.
The CAB, composed of constituents from across the enterprise (both inside of and out of IT), meets weekly to discuss proposed changes.
You can join gr-CAB. Need to join? Subscribe to Gr-CAB, or attend a meeting Monday at 11 AM. Change Sponsors needing to present a change, and other participants are welcome to to attend in person or via Zoom.
2. What is a Change?
The addition, modification or removal of anything that could have an effect on IT Services; or any activity that is a risk to an IT service. Changes are submitted in Cherwell for CAB review and approval.
3. Everyone in IT can view changes in Cherwell.
Both the Cherwell desktop and web clients allow changes to be searched and displayed.
Within Dashboards, WPI-CAB provides an overview, and an easy way to delve into more detail. Viewing changes in Cherwell also enables all IT staff to be apprised of activity across the department, and to contact the sponsor if they would like to discuss.
4. Changes go hand-in-hand with communications.
CAB discussions enable input regarding scheduling, impact to other systems, and end users. It helps the Change Sponsor and Change & Communications team discern whether communications are needed, how broad, and what method is best for this change.
5. Assistance is available!
To peruse, enter, or approve changes, you can find more information in the Canvas course for ITSM-TRAINING.